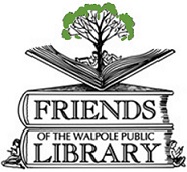 Join the Friends
We welcome your participation and support.
Friends Meetings
The Friends Meetings are welcome to all and are held at the Walpole Public Library unless otherwise noted.
Monday, June 1 - 6:30 pm - Outside Location
Monday, September 14 – 7:30 pm - Pinnacle Room
Monday, October 5 – 7:30 pm - Pinnacle Room
Monday, November 2 – 7:30 pm - Pinnacle Room
Monday, December 7 - 7pm - Annual Meeting- Community Room
Book Sale
We welcome donations of gently used books, magazines, and DVDs for our ongoing book sale.
Please leave your donation
in the Friends Room at the Walpole Public Library. Donation bins are under
Thank you!
Everything sells
for 1/2 price
the last Saturday
of each month.
Friends Events
Thursday, September 17 - 7 pm - Maureen Stanton, author: Writing Home: A Walpole Memoir
Thursday, September 24 - 7 pm - Bruce Hambro, cultural historian: Bing Crosby — Swinging on a Star
Library Friends Canceling All Events through the End of April in Response to the Coronavirus
As most of you know, the Walpole Public Library is closed to the public until further notice in response to the coronavirus outbreak. The CDC has recommended that, over the next 8 weeks, gatherings of over 50 people be cancelled. Governor Baker has issued an Executive Order prohibiting gatherings of over 25 people through April 5. New directives are being made frequently by Walpole, Massachusetts, and Federal officials as events evolve.
Accordingly, the Friends of the Walpole Public Library have cancelled all events through the end of April. We will resume the scheduling of events when health officials deem it safe to do so. We urge people to take preventive measures to reduce the risk of exposure to the coronavirus. We hope you and your family will be safe and in good health.