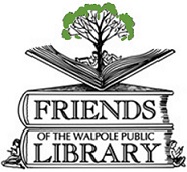 Join the Friends
We welcome your participation and support.
Friends Meetings
The Friends Meetings are welcome to all and are at 7:30 pm and are held at the Walpole Public Library in the Pinnacle Room unless otherwise noted.
Monday, December 2 in the Community Room -

CANCELED DUE TO WEATHER
Featured Speaker Tamarah Green,
Executive Director: Walpole Media TV - See Details
Book Sale
We welcome donations of gently used books, magazines, and DVDs for our ongoing book sale.
Please leave your donation
in the Friends Room at the Walpole Public Library. Donation bins are under
Thank you!
Everything sells
for 1/2 price
the last Saturday
of each month.
Friends Events
Monday, December 2 - 7 pm -

C

ANCELED DUE TO WEATHER

Tamarah Green, Executive Director:
Tuesday, December 3 - 7 pm - Michael Ponsor, judge & author: Capital Punishment in Fact
and in Fiction - See Details

Tuesday, December 10 - 7 pm - Alan O'Hare storytelling group (Children's Program Room) - See Details
Saturday, December 14 - 1 pm - The Senior Moments Chorus: Holiday Concert - See Details
Tuesday, January 7 - 7 pm - Alan O'Hare storytelling group (Children's Program Room) - See Details
Thursday, January 16 - 7 pm - Ty Burr, film critic: Handicapping the 2020 Oscars - See Details
Tuesday, January 21 - 7 pm - Hillel Bromberg: Tea Tasting - RESERVATION REQUIRED - See Details
reservation information: waref@ocln.org or 508 660 7341

Thursday, February 13 - 7 pm - Beth Knaus presents: ArtMatters: Impressionism
Thursday, March 26 - 7pm - Barry Pell, photograpger: Travels in Cuba
Tuesday, April 7 - 7:30pm - Paul Clerici, author: Boston Marathon: History By The Mile
Tuesday, May 12 - 7 pm - Beth Knaus presents: ArtMatters: Mother and Child