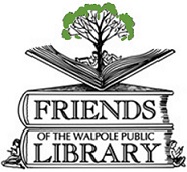 Join the Friends
We welcome your participation and support.
Book Donations
We welcome donations of gently used books, magazines, and DVDs for our ongoing book sale.
Please leave your donation
in the Friends Room at the Walpole Public Library.
Donation bins are under
the staircase.
Thank you!
Everything sells
for 1/2 price
the last Saturday
of each month.
Friends Meetings - 7pm
Monday, September 12, 2022
Monday, October 3, 2022
Monday, November 7, 2022
Tuesday, December 6, 2022