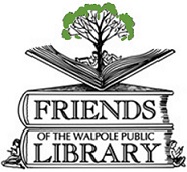 Join the Friends
We welcome your participation and support.
Book Sale
We welcome donations of gently used books, magazines, and DVDs for our ongoing book sale.
Please leave your donation
in the Friends Room at the Walpole Public Library. Donation bins are under
Thank you!
Everything sells
for 1/2 price
the last Saturday
of each month.
Friends Meetings
The Friends Meetings are welcome to all and are held at the Walpole Public Library unless otherwise noted.
Monday, September 10, 2018
Monday, October 1, 2018
Monday, November 5, 2018
Monday, December 3, 2018 Friends Annual Meeting
Friends Events
Tuesday, August 7 - 7pm - Story Telling Group Led by Alan O'hara at the Senior Center - See Detail
Monday, August 13 - 7pm - Juggling Workshop - in Children's Room - See Details
Thursday, August 16 - 7:30pm - Aoife Clancy & Bill Elliot: Celtic ConFusion - Celtic/Folk/Jazz duo - See Details
Monday, August 20 - 7pm - Juggling Workshop - in Children's Room - See Details
Monday, August 27 - 7pm - Juggling Workshop - in Children's Room - See Details
Thursday, August 30 - 7:30pm - Dan Shaughnessy: Boston Sports - See Details
Tuesday, September 4 - 7pm - Story Telling Group Led by Alan O'hara at the Senior Center - See Detail
Thursday, September 13 - 7pm - North Sea Gas Scottish folk group - See Details
Wednesday, September 26 - 7:30pm - David Clinton: History of VIA RAIL; Canada's Passenger System
Wednesday, October 3 - 7:30pm - Dr. Robert Brooks, psychologist: Lessening Stress and Nurturing Resilience Throughout Our Lives
Tuesday, November 13 - 7:30pm - Ross Hall: East Wind - The Saga of a Great Train

Thursday, November 15 - 7pm - Judith Kalaora History at Play actor: World War II Women
Monday, November 26 -7pm - Gary Hylander End of World War I - 100th Anniversary